Maui, Hawaii
GROUP RATES SOLD OUT
The group rate at Wailea Marriott hotel is sold out.
Due to high demand, hotel bookings are becoming difficult on Maui. We have secured rooms at the Residence Inn which is a ¼ mile away from the Wailea Marriott. Rooms are available on a first come bases, limited availability.
If you need assistance with lodging, please contact Steve at steve@nmgmeetings.com.
| Residence Inn | Daily Rate * | Deposit | Reservation Deposit |
| --- | --- | --- | --- |
| • Garden View | $597++ | x 2 Nights | $1,194.00 |
Convenient hotels in the area include:
| | |
| --- | --- |
| Grand Wailea | Andaz |
| AC Hotels by Marriott | Fairmont Kea Lani |
| Four Seasons Resort | |
The next closest town of Kihei (approximately 15 min drive) may offer more affordable options to include AirBnB, VRBO and RedWeek options for booking condos.
Click HERE for "What Do I Need to Know About Getting to Hawai'i?"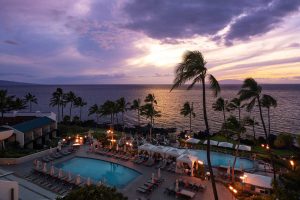 Year after year voted "Best Island in the World" by international travelers. Here you'll find the best of the Hawaii experience in perfect balance – a sophisticated international destination in an exotic, unspoiled natural setting. With world-class resorts and easy access by direct air service from the U.S. mainland and Canada, Maui is the first choice for unforgettable meetings.
Maui Highlights
World-class meeting facilities
Professional, dedicated staffs
Incomparable beaches and activities
Fifteen championship golf courses
Five-star regional cuisine
 The warm, friendly "Aloha Spirit"
Wailea
Tucked in the leeward side of Mount Haleakala, between the green slopes of the volcano and the deep blue of the pacific, Wailea proved also to be a fertile land for grazing and growing sugar cane. Ultimately, 1500 acres of Makee's ranch land passed into the hands of developers, who went about establishing one of the most exclusive resort enclaves in the world. Today, Wailea is studied by architects and planners from around the world as a model for resorts. Its five super-luxe hotels are arrayed like jewels against a royal cape of emerald green landscape.
The gem-like beaches of Wailea are sheltered, secluded and rarely crowded, even for visitors not staying at one of the Wailea's resorts. Wailea's five beaches- Keawakapu, Mokapu, Ulua, Wailea Beach and Polo Beach offer calm waters which are a swimmer's delight.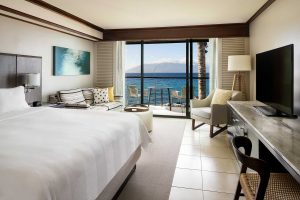 Polo Beach, at the south end of Wailea, with its partially paved path and beautiful landscape, has been called one of the most romantic spots in the area. Snorkeling and scuba are prime activities in Wailea.
Wailea Resort – Marriott, Maui
Wailea's First Resort is Now Its Newest – The ocean is everywhere at the transformed Wailea Resort – Marriott, Maui. The striking sight of the vast Pacific greets you the moment you arrive.
Humpback whales and gorgeous sunsets are the backdrop as you explore redesigned rooms, new culinary experiences, and reimagined spaces spread across a Wailea location that is the envy of all. This once-in-a-lifetime transformation reaffirms the connection to our natural surroundings.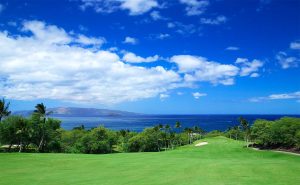 The new Wailea Resort – Marriott, Maui is a source of serenity and renewal, and a wellspring of Hawaiian culture and tradition. We invite you to tap into the energy and spirit of a place, and an island, like no other.
To view the Wailea Resort – Marriott, Maui Website, click HERE. Snorkeling, scuba and golf are prime activities in Wailea.
Please Note: Group rates are sold out. Please see other options at the top of this page.
Questions?

Click HERE for questions or to request additional information regarding the 2022 Guild Conference.